It's Halloween Season! If you have young children or are a Halloween enthusiast yourself, you've probably already gathered your costumes, props, wigs, etc. for the occasion; if you need to freshen up an outfit before this year's party or want to clean and store at the end of the month however, here are a few tips for cleaning your Halloween costume:
Keep in mind that Halloween costumes are often made with inexpensive fabrics, cheap materials, and basic stitching.
Unlike your everyday clothing, these outfits are not designed to last but rather for the one time, once per year events of the holiday. However, with proper and gentle care, you can get the most out of your costumes and keep them looking fresher longer!
Bright colors and unique patterns could bleed dye from your costume – before you wash the garment, test for color stay by running a small area of the fabric under water (the same temperature that you would use to wash the costume). If it does bleed, bring the costume in for professional cleaning to avoid ruining the costume or other articles in the load.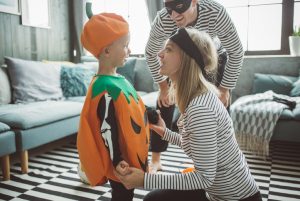 Always check for washing instructions that come with the costume or on the label. Typically, it is best to hand wash your costume, inside out, using gentle detergent. Rinse well to remove all traces of soap. Hang dry or lie flat to avoid shrinking and pilling in the heat of the dryer.
If your costume just needs a little de-wrinkling, iron on low heat with distilled water. The inexpensive materials like rayon and polyester can be especially sensitive to heat, so check your settings before putting the iron to the fabric.
You could also try steaming with your bathroom shower or running a no-heat wrinkle release setting in your dryer.
Before storing your costume, make sure it is free of stains and moisture. Pretreat any stains and clean before putting away for the year. Sweat and body odor can cause stains and damage fabric if left untreated – you should always air out, if not clean, your costume before storing.
To have your garments looking their absolute best, drop them off for our organic wet cleaning service! For advice on your specific costume, a tough stain, or to schedule a pick-up, give us a call at 303-798-0515.