Winter in Colorado means layers to stay warm in unpredictable weather conditions. We love to wear our knit sweaters, scarves, and accessories – especially the handmade items with extra sentimental value. But cleaning those items can be tricky! You don't want to damage the carefully crafted items in your washing machine, or risk shrinking, stretching, and ruining the yarn.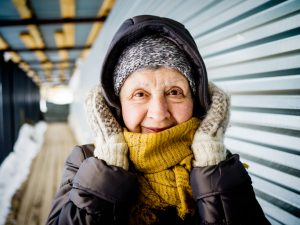 Before you clean your knit garments at home, keep these things in mind:
Type of Material
Yarn comes in as many fibers and materials as fabric, and each has different care requirements. Is your sweater made of cotton yarn? Wool? Acrylic? Check the label on the sweater. For handmade items, you can refer to the label on the yarn itself, if possible.
If you have a sweater without a label, an expert can help determine the material it is made from and recommend the best care options. Bring your hand-knit garments to Green Care Cleaners so our clothing care experts can offer advice or clean the item for you.
Risks to Hand-Knit Items
Stretching – Natural elasticity can be damaged by normal wear and tear, but washing can expedite the damage. Never hang these items, but instead store folded in a drawer. Do not hang dry either, as wet fibers may stretch even more with gravity.
Shrinking – Heat from the dryer can cause knit items to constrict and shrink. We recommend laying flat to dry whenever possible.
Tearing – The agitation of the washing machine can cause some hand-knit items to pull apart, tear, or become damaged. For these items, wash by hand or take to a professional.
Proper Care
If you are going to clean the items at home, always follow the care instructions. If you don't have instructions to follow, first test detergent on a small, inconspicuous area first to make sure it does not damage the material. Then use a gentle cycle or handwash the items carefully. For best results, bring your garments to our professional wet cleaners for advice on how to wash the item.
Never put hand-knit items like scarves in the dryer, as the heat and agitation can damage the fiber and the weave. Instead, lay flat to dry and reshape to prevent damage.
For advice on caring for your favorite knit clothing and accessories, bring them to Green Care Cleaners in Highlands Ranch! Our professionals will keep your garments and scarves looking their best, without the risk of washing at home. Call us at 303-798-0515.