Swimwear takes quite a beating in the summer. Whether you swim in the pool/natural water daily or just jump in every now and then for a quick dip, pool chemicals, the sun, sand, and lotions can all cause damage to swimsuits.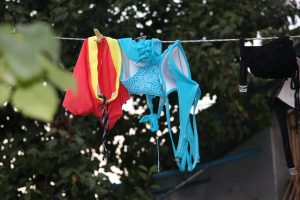 This is distressing as swimsuits aren't cheap, and the perfect one is often hard to find. Learning to properly care for your suits can lengthen their lifespan significantly. The following are tips to keep your swimwear looking good for years to come.
Rinse ASAP
Sunscreen, chemicals, and body oils can do damage to the material that most suits are made of. Rinse suits immediately after being in a hot tub or chlorinated pool. Besides protecting the integrity of the fabric, the quicker you rinse harsh agents out of your suit, the less likely your swimwear will smell like chlorine, the beach, etc.
Hand Wash
Always hand wash your suits rather than machine wash them. The agitation from washing machines can damage all the delicate parts of a suit, leaving things bunched, stretched, or otherwise ill-fitting. In fact, machine washing is probably the worst thing you can do to swimwear.
Soap It Up
Be sure to use a very mild detergent, such as a little hand soap or baby detergent, to wash your suits. Never use anything with lotions or moisturizers in it as they are damaging to the material. Turn your swimsuit inside out and submerge in water. Swish it around for several minutes and then rinse well.
Dry Off
Never wring your suits out as this can damage the fibers of the suit and distort its shape. Lay your suit flat on a towel, roll the towel up and squeeze gently, then lay it flat to dry as hanging a swimsuit to dry can cause it to become stretched out. Also, avoid drying in the sunshine as this can cause the colors to fade, and never, ever put a swimsuit in the dryer.
Mix It Up
Spandex is a "memory fabric," meaning it takes a full day to return to its regular form. Having more than one suit to wear means you give each one the chance to breathe and return to its original shape. Alternating suits also gives each a chance to dry thoroughly, reducing your risk of being exposed to the bacteria and mold that can grow from damp swimsuits.
Keep Cool
Hot water is bad for swimwear, and the combination of hot water and chlorine in a hot tub is even worse. Never use hot water to wash your suits, and avoid too many dips in the hot tub in your favorite suit. Instead, save an old suit, or your cheapest suit, for hot tub dipping. If you plan on spending a lot of time in a hot tub, choose a suit that is 100% polyester or chlorine resistant as cotton and natural fibers don't hold up in chlorinated water.
Prep a New Suit
Prepping a new suit before taking a dip at the beach or in a hot tub can help lengthen the life of the suit. A 30-minute soak in a vinegar and water mixture (one tablespoon white vinegar per quart of water) should prevent dye from bleeding.
Watch Where You Park It
Whether you're sitting on the ground, on a wooden bench, or on some other rough surface, try to always sit on a towel. These surfaces can snag and tear material, causing it to look worn and old before it's time. If you don't have a towel handy, wrap up in a sarong or scarf when you leave your lounge chair or the pool so that when you sit down, the bottom of your suit is protected.