As the temperatures start falling in Highlands Ranch and the holiday season is near, we wish you warm and cozy gatherings. Winter in Colorado means sweater weather! Whether you wear sweaters every day or are preparing for an "Ugly Sweater" party this winter, proper care can keep your favorite winter garments in the best condition all season!
Wool
Wool is a common material used for winter sweaters because of its warmth. Merino, Shetland, and Lambs wool are great sweater material, but can be difficult to care for at home.
Wool garments can be easily damaged by heat, water, and cleaning chemicals like bleach. Instead of washing at home, bring your wool clothing to our organic cleaners for proper care.
Cashmere
Cashmere is extremely soft and lightweight, yet warm and delicate. These sweaters are often expensive. This material makes the most luxurious sweaters. Whether you save them for special occasions or treat yourself to this comfortable fabric, proper care is extremely important to protect your investment.
Cashmere sweaters should not be washed by your washing machine at home. The fabric must be handled with care to avoid twisting, wringing, and damaging the fibers in the fabric. Bring your cashmere items to Green Care Cleaners to avoid damaging the shape and feel of your favorite sweater.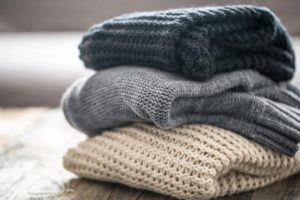 Cotton
Cotton is a very common material for clothing in general, including sweaters, because it is durable and lightweight. While fall temperatures are changing, cotton is a good option for staying warm and comfortable in unpredictable temperatures.
Cotton typically can be cared for at home, but use caution. Cotton garments are more likely to lose their shape. Dry flat and store in a drawer, not a closet, to avoid stretching out the fabric.
Other sweaters are made from blended materials or a mix of multiple fabrics. For more advice on proper sweater care and washing your specific sweaters, bring your garments into Green Care Cleaners in Highlands Ranch or call our clothing experts at 303-798-0515.