Have you ever washed a colorful shirt only to discover that your washing machine and detergent have turned it a few shades lighter? It's as if they've teamed up on you and decided to fade your wardrobe. The new, brightly colored top you just bought for spring is now dull and lifeless. It's an unfortunate situation and it can be extremely irritating when your clothing comes out looking a decade older after one wash. How do you stop this viscous cycle of abuse and protect your colorful clothing?
To keep your colorful clothing more vibrant and happy, send them to your professional organic cleaners in Highlands Ranch! Organic cleaners are the authorities on keeping your dress the most electric shade of blue, or making sure your jacket stays that perfect shade of jet black. The same can be said for your dingy whites.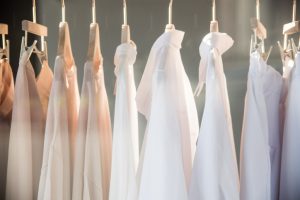 You can't deny the fact that your white button up is not as flawless looking as the first time you wore it. Yes, dumping them in chlorine bleach might fight off the grunge, but at what cost? This harmful chemical can cause eye and skin irritation and give you headaches as well. Not to mention that an accidental spill could ruin a nearby pile of laundry. Sometimes, whites accidentally find their way into the colors basket which can cause a fade effect. You didn't want a new pink button up, but you've got one now. Instead of dealing with these potential disasters you can just have your garments picked up and delivered for FREE by your caring and professional organic cleaning experts!
Think of your organic cleaners as the guardians of your closet/dresser. They vigilantly defend your honor and keep you from looking like you got dressed in a dumpster. Organic cleaners that use soy-bean technology have the capability to preserve the colors of your intensely hued garments. Only sophisticated cleaners will use Soybean Nano-Technology to make your garments resistant to stain. Whether you realize it or not, maintaining the vibrancy of your clothing makes a statement to your friends, family, and coworkers. Failing to acknowledge your dinginess also makes a statement. What does your clothing say about you?