When it's time to clean your clothes – if you are preparing for a big interview, returning from a wedding, or discovering a stain on your suit – bring your garments to Green Care Cleaners to get them fresher, cleaner, and longer-lasting via green dry cleaning!
Here are a few things you can do to prepare your garments for cleaning:
Empty the pockets – Check your garments for any belongings or scraps of trash that may have been forgotten in the pockets. Certain hazards like gum and makeup can damage your clothing, and even harm other garments in the same load. Be courteous, and check your pockets before you leave your clothes with us.
Identify stains – Before you drop off your clothing, it can be helpful to mark stains with a pin or masking tape. This will make the stains easy to find for the spotters at our shop, and can help you remember to ask about certain stains at drop off. It is also helpful to prepare a list of stain origins, if possible. This will again help our experts to clean the stains more efficiently and eliminate guesswork of identifying a stain, so we can use the best removal process for each specific stain.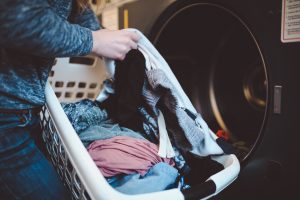 Mark concerns – If you have noticed any loose buttons, appliques, or broken zippers, point them out before we clean your garment. Knowing these points of concern in advance, we can make efforts so they are not worsened by the cleaning process and can even fix them for you!
Ask questions – If you have questions about the care of your garment, the services we offer, or concerns about a specific stain, ask us when you come into the shop! We are happy to answer any questions and address your concerns.
Remember, never let a stain set. If you have a stained garment, it is best to have it cleaned right away. If you are cleaning separates, like a suit pants and jacket, it is best to clean all pieces at the same time for even wear. Green Care Cleaners is here to keep your garments cleaner, softer, and longer-lasting via green dry cleaning – call us at 303-798-0515 for more info!