It's hard to believe that Halloween is almost here. The seasons really do fly by in Colorado! As you're preparing for this year's festivities, here's a tips for last minute Halloween costumes: Turn to your closet!
Overalls. If you have a pair of overalls in your closet, you have the base for several outfits! With a red or green hat and a mustache, you become one of the Mario Brothers! Add a flannel shirt and a little straw to become a Scarecrow. Pair with a bright yellow shirt (and goggles) to be minion from "Despicable Me."
Sportswear. Grab some athletic tape and a hoodie to transform yourself into a boxer. Have a favorite sports star? Mimic their look with your workout clothes. Or wear all black and a beanie to be an on-the-go burglar.
Striped T-Shirt. Black and white stripes can turn you into a number of characters. Grab a whistle to become a referee or try white gloves and face paint to become a mime. If you have colored stripes, turn yourself into a pirate! Red stripes? Did someone say, "Where's Waldo?"
Jean Jacket. With this closet staple, you can easily become some recognizable characters. Grab a bandana to become Rosie the Riveter. With a puffy vest, turn your jacket into the wardrobe for "Back to the Future" Marty McFly.
Old sheets. A simple, time-tested classic. Boo!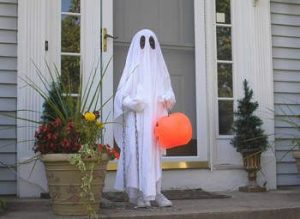 Whether you find a hidden gem in your closet or re-purpose last year's costume, make sure it is clean and fresh before Halloween arrives. Hidden stains may have surfaced if the costume wasn't properly cleaned before going into storage, so get out the costume early to check.
For the best clean and care, bring your costume into our store in Highlands Ranch! Halloween costumes are often made from a variety of difficult fabrics, from polyester to velvet. Our cleaning experts will carefully handle even the most challenging fabrics for a fresh feel just in time for Halloween!
If you have questions about caring for your costumes or removing pesky chocolate and sugar stains, call our experts at 303.798.0515. Happy Halloween!