For many Coloradans, the best thing about winter in our great state is Ski Season! Whether you enjoy skiing, snowboarding, snowshoeing or you are a sledding enthusiast, you probably rely on warm winter sportswear to keep you dry and warm while partaking in your favorite activities.
Keeping your snow pants, ski jackets, and your warmest layers looking and performing their best requires regular cleaning and care. For best performance, it's recommended to clean your gear at least twice per season.
Gore-Tex shells have been known to last and keep their technical abilities for 30 years with proper care. And with the cost of a new jacket costing upwards of $350-500, the regular care is the cost-efficient way to achieve longevity and extend the life of your quality winter gear.
In order to keep you warm and dry without trapping in perspiration, most ski wear is treated with special finishes to be both waterproof and breathable.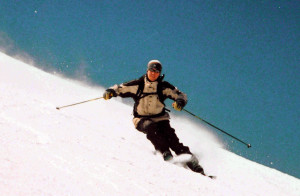 Ski wear and active winter jackets are typically coated with a water repellent finish. This coating has tiny holes that allow water vapor (from your sweat and body perspiration) to escape. At the same time, the holes are so small they prevent liquid water from getting through.
As you use your ski garments, dirt, grime, and body oils can get trapped in these holes and obstruct the finish from working properly. Clogged pores trap your body heat inside the garment, while the dirt and grime can wear down the finish.
Periodic cleaning will keep your jacket looking and performing like new! Removing the accumulated dirt will open up the holes in the finish again to restore water proof properties and breathability.
Between washes, use a clean, damp cloth to brush away any visible dirt and stains. Always remember to hang, air out, and dry your winter sportswear completely before storing.
If you wash your ski wear at home, always follow the care instructions on the label. Avoid using heavy detergents, bleach, and fabric softener, and DO NOT dry clean. The harsh chemicals will damage the water proof or resistant coating on your best gear.
Our organic wet cleaning is a safe alternative for your ski wear, without the harsh chemicals that typical Dry Cleaners use. Your ski gear will be fresher, cleaner, and last longer!
With proper care and cleaning, your winter sportswear and ski clothing will last from season to season. Call Green Care Cleaners at 303-798-0515 if you have any questions regarding maintenance of your clothing at any time of year!