Damaged clothes are often packed up and forgotten, or maybe even tossed aside and thrown in the trash. Perhaps there was a devastating house fire in your recent past or an overwhelming flood that caught your closet. Hey, it could even have been as simple as you got a little too close to the bonfire on your last camping trip and you can't get that smoke smell out of your favorite sweatshirt. Regardless of the reason, smoke and water damage happens to the best of us…and sometimes our best clothes. While many times this damage seems irreversible, before you spend the money and buy an entire new wardrobe, it's important to know that clothes can often be restored at your local organic dry cleaners.
First and perhaps most importantly, don't wash your damaged clothes in a regular washing machine-not only will it fail to get the smell and stains out, but it may damage your clothes even further by swirling them around in the same smoky water that caused the damage in the first place.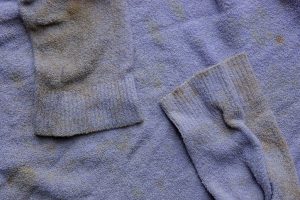 There are two major things that can cause vigorous damage to clothing: soot and odor. Before the smell can be taken care of, though, the soot must first be removed. Our unique organic cleaning process employs a gentle cleaning method that targets concentrated areas to reduce the risk of spreading soot to non-damaged areas.
It's important to go to an organic dry cleaner to restore your damaged clothes. The problem with regular dry cleaners is that they use harsh chemicals that won't remove the soot, but instead spread it around the garment.
So before you stamp your damaged clothes' ticket to the dumpster, bring them by Green Care Cleaners and let our organic dry cleaning process restore them to a proper state. Stop by or call us at (303) 798-0515 today!