Spring cleaning might have you turning your whole house upside down for the sake of a fresh living area, but that doesn't mean you can't seek help along the way. As your local dry cleaner, we're here to help you clean the tough stuff that you don't have time for. Here's a short list of items you may want to consider dropping off at Green Care Cleaners this spring:
Bedding
Dry cleaning your bedding will prevent your comforter from puckering and shrinking, preserving it for years to come. Most comforters are simply too big for home washing machines, which means they won't get completely clean if you run them through a normal cycle.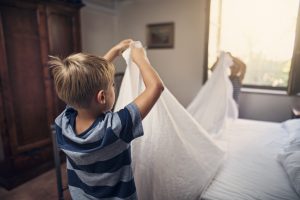 Curtains
Draperies and curtains collect a huge amount of dust over time, retaining everything that blows through the window throughout the year. Clean curtains are a necessary part of spring cleaning, and bringing them by a dry cleaners is integral to removing the oil and dust that degrades the fabric over time.
Rugs
Though a handmade rug can be a work of art, it's still meant to be used in the household. We scuff them, spill liquids on them, and drag mud over them throughout the year. While spot-cleaning rugs is a great habit, the only way to completely clean and preserve your area rug is to have it dry cleaned by a professional.
Couch Cushion Covers
It's easy to throw couch cushion covers through the wash when a stain occurs, but often this disrupts their shape, making it difficult to fit back on the cushion. When you have your couch cushion covers dry cleaned by professionals, they won't just fit right—they'll be preserved for years to come.
If you need help cleaning any of these items, don't panic! Green Care Cleaners is here to help. Bring these hard-to-clean household items by so our gentle wet-cleaning process can preserve and protect them for the rest of the year. Call (303) 798-0515 today or visit our organic wet cleaners in Highlands Ranch.